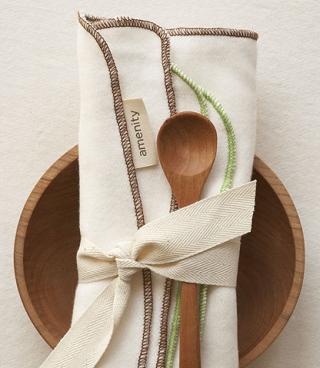 If you read my
post
yesterday you know that Pooka recently started eating solids and with that comes a whole new set of gear to acquire. It should be simple to find safe and healthy products for feeding your baby but you'd be surprised. After a quick trip to Babies R' Us I realized there were still a lot of products on the market with BPA and finding bowls and spoons without PVC and phalates was nearly impossible despite a wall full of feeding gear. The only brands I found without those ingredients were
Boon Inc.
(which I love and own) and
The First Years
Meal Mates
and
Take and Toss
sets. As the name implies, the Take and Toss are not exactly eco-friendly despite their safer ingredient list because they are marketed to be tossed although they are reusable.
Then I remembered Amenity Home's gorgeous
Eco-Wooden Bowl and Spoon set
they introduced this summer. The bowl and spoon are carved from non-toxic cherry wood and finished with beeswax and oil. You can use the bowl and spoon like a mortar and pestle and mash bananas, avocados,or steamed veggies right in the bowl. This bowl and spoon set will last through more than one child and will likely become a beautiful family heirloom (this ain't no take and toss). An added benefit is that the bowls are made by a co-op in Ann Arbor, Michigan. Purchase the
Baby's First Meal
gift set and get four organic wash clothes with your bowl and spoon, you're going to need them! And while your there pick up some of their organic bedding and bath gear (read more about Amenity in this
post
).